OP Season 8 and Tavern League Season 2
Our Red Dragon Inn Organized Play program is entering its eight season! We've refreshed the promo card prizes included in the kit, and we've also updated the format of Organized Play kits to make them easier for game stores to use to their fullest. Plus, they're less expensive now!

Organized Play is your opportunity to prove that you're a tavern brawling expert in official Red Dragon Inn Tournaments! These tournaments are hosted by Tournament Organizers at your local game store, giving fans of RDI a friendly place to compete for fabulous prizes.
In Season 8, the premium prize is Cinder Cider, and the participation prize is Golden Peanuts!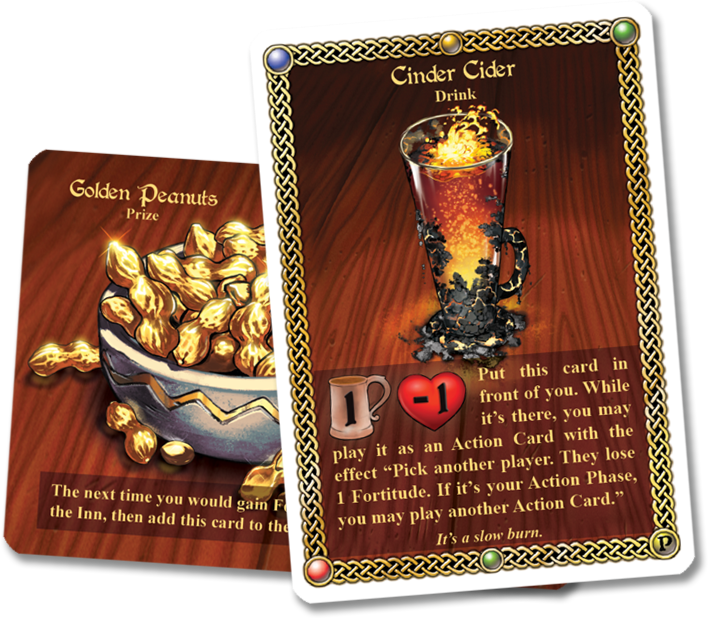 And of course, there's a little bit of metal in it for the overall winner of the tournament as well! Each kit includes one high-quality Organized Play Winner coin – it's a chunky 3mm thick and 38mm wide. Perfect to slap onto a table for bragging rights, and it doubles as an 'In Control' marker for Gambling rounds!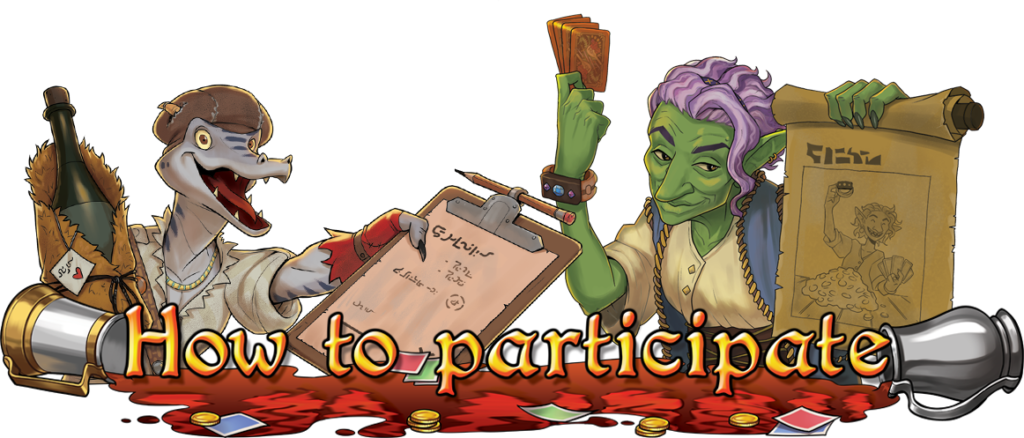 If you're a retailer, check out our Organized Play page – you can find out just about every detail you need to know there, and through the Organized Play Documents hosted at the bottom of the page! Also, if you're new to OP or you haven't engaged with it in a while, we've changed our availability policy. This means we're re-issuing old OP seasons and keeping them available for you! Sound good? Look for the order form link under 'Stores'!
If you're a SlugCrew member, dust off your demoing hat and talk with your local retailers about the program! If you help a store run a tournament, you can earn the OP prizes and SlugCrew points at the same time. Encourage your local store to order a kit and help your gaming community play some great games and win some sweet swag!
If you're a player, ask your local retailer if they're running Organized Play for The Red Dragon Inn! Show them the website and let them see what a good opportunity it is for them to encourage games in their shop and get customers excited about The Red Dragon Inn.

If all this Organized Play excitement wasn't enough, we're also launching the second season of Tavern League! If you haven't heard of Tavern League, that's only natural as we launched it…*checks calendar* in January of 2020. *ahem*
So let's recap!

Tavern League is a casual play program meant to attract newer and more laid-back players, where Red Dragon Inn fans can meet and play games in a friendly, relaxed environment. The League format is ideal for hosting regular RDI nights (or days, we won't judge) with a little structure and prize support to keep customers coming back to play multiple times.
The focus isn't on winning or losing, but on regular attendance, good sportsmanship, and hearty laughs!
What does TL mean for OP?
Don't worry! We're not taking anything away from existing programs. Stores that run Organized Play tournaments can absolutely participate in Tavern League and vice versa. All we ask is that you don't "cross the streams" and use Tavern League prizes for tournaments or Organized Play prizes at league events! The kits have different purposes, so the support inside each is weighted differently.
Okay, so…What are the prizes?!
In a Tavern League, players will be able to earn a Participation Promo, a Finisher Promo if they stick the League out until the end, a Finisher Sticker to go along with it, and an array of Special Award Stickers given out based on special thematic reasons!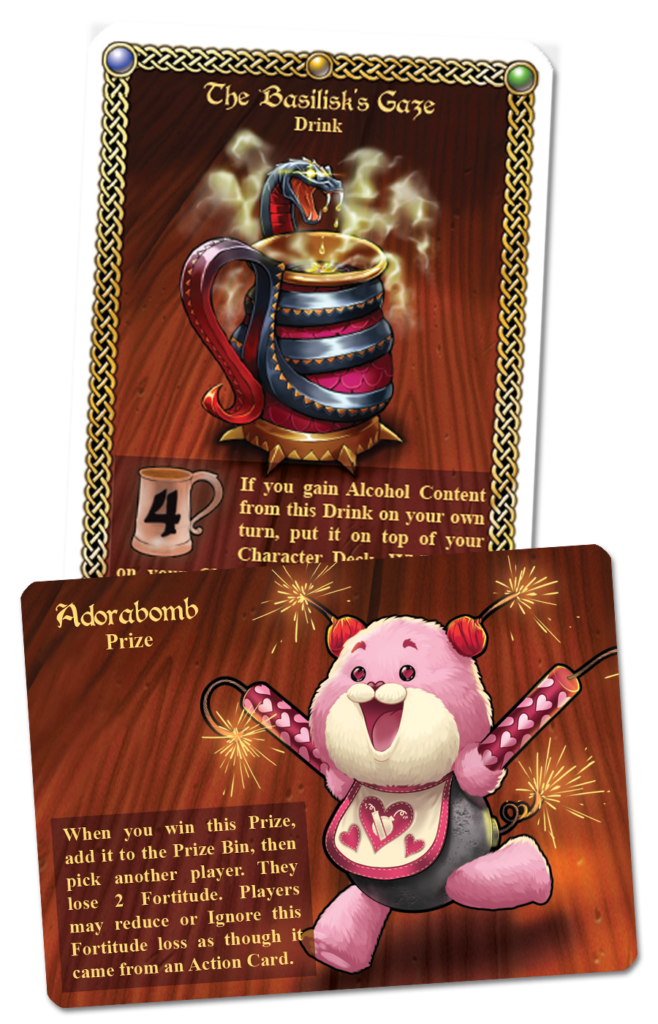 For Tavern League Season Two, you can snag an Adorabomb as the Participation Prize, and a copy of The Basilisk's Gaze if you attend the whole season (reprinted for the first time without foil!)
For this second season, the theme of the League is 'Keeping the Party Going' – that means the Special Awards are Most Games Played, Funniest Roleplay, and Bringer of Snacks!

If Tavern League sounds like a fun way to spend some time gaming with other Red Dragon Inn fans, then you know the drill by now! Retailers; order some kits! SlugCrew; roll up your sleeves! Players; get ready to have a great excuse to go to the stores you like and play the games you love on the regular.