Organized Play
SlugFest Games Organized Play supports Red Dragon Inn tournaments at local game stores all over the world. Learn how to play and compete in events for fabulous prizes!

Interested in playing RDI and getting cool promotional cards? Encourage your local game store to visit this site and order an Organized Play Kit!

Want to increase store traffic and promote sales? Order an Organized Play Kit today! For $20, you will receive prize support and swag for two RDI tournaments!

If you help a store run RDI tournaments, you can earn the tournament's promo cards and earn SlugCrew points! Contact your local game store and tell them about Organized Play!
Organized Play Kits – Season 7
An OP Kit contains the following:
2 Tournament Prize Packs, each containing 20 participation cards and 3 premium cards
2 "RDI Season 7 Winner" coins
1 Random RDI-themed drink coaster
1 Fortitude/AC coin set
A poster for advertising your events
Copies of the RDI Tournament Rules documents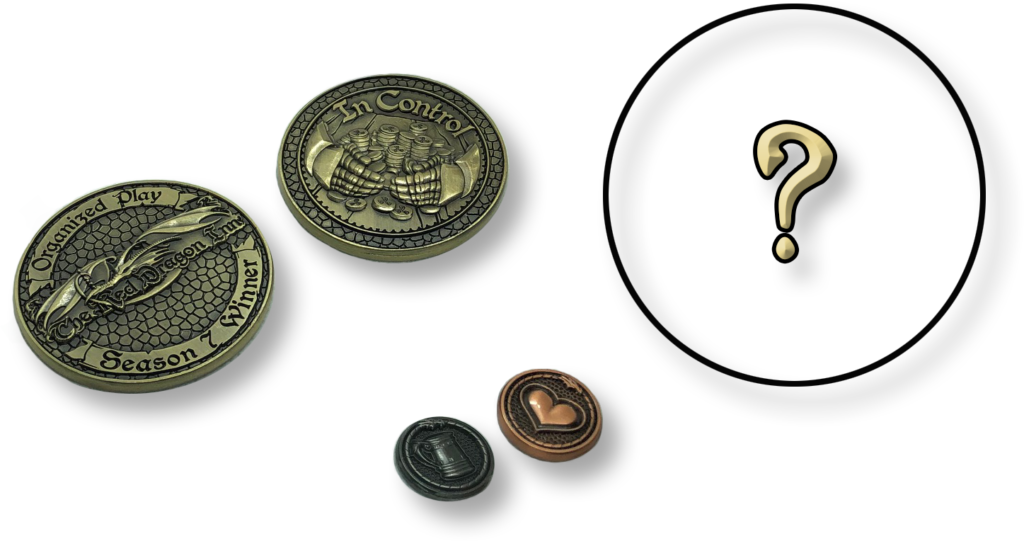 ---
Winner Coin designed by Brian Patterson (D20 Monkey), and manufactured by our friends at Campaign Coins.
The Fine Print: Players, Host Stores and Tournament Organizers are expected to know and abide by the RDI Tournament Rules documents. Failure to do so will result in the loss of Organized Play privileges. The most up-to-date documents can be found on this page. SlugFest Games reserves the right to change or terminate Organized Play without notice.
Contact Us: slugfestgamesop@gmail.com
Get the Organized Play Docs:
Red Dragon Inn Tournament Rules (PDF, 175.4 K)
Red Dragon Inn Rules Enforcement (PDF, 98.2 K)
Organized Play Prize Distribution Rules (PDF, 254.0 K)
(documents last updated Oct 28, 2019)
Get the Game Rules:
The Red Dragon Inn 1 (PDF, 1.6 M)
The Red Dragon Inn 2 (PDF, 1.8 M)
The Red Dragon Inn 3 (PDF, 1.8 M)
The Red Dragon Inn 3 Extra Rules (PDF, 2.5 M)
The Red Dragon Inn 4 (PDF, 1.9 M)
The Red Dragon Inn 4 Extra Rules (PDF, 1.0 M)
The Red Dragon Inn 5 (PDF, 1.7 M)
The Red Dragon Inn 5 Extra Rules (PDF, 1.1 M)
The Red Dragon Inn 6 (PDF, 2.6 M)
The Red Dragon Inn 7 (PDF, 4.0 M)
The Red Dragon Inn 8 (PDF, 3.0 M)
RDI Allies: Pooky (PDF, 2.8 M)
RDI Allies: Erin (PDF, 4.0 M)
RDI Allies: Cormac (PDF, 1.1 M)
RDI Allies: Natyli (PDF, 3.7 M)
RDI Allies: Ozrik (PDF, 753.0 K)
RDI Allies: Bastian (PDF, 822.1 K)
RDI Allies: Halden (PDF, 2.0 M)
RDI Allies: Zariah (PDF, 1.0 M)
RDI Allies: Wrench (PDF, 1.4 M)
RDI Allies: Keet & Nitrel (PDF, 999.6 K)
RDI Allies: Adonis vs The Lich King (PDF, 897.3 K)
RDI Allies: Spyke & Flower (PDF, 2.8 M)
RDI Allies: Ohava vs Murgath (PDF, 590.4 K)
RDI Allies: Piper vs Ripsnarl (PDF, 1.3 M)
RDI Allies: Evil Pooky and Epic Pooky (PDF, 1.5 M)
RDI Smorgasbox: Roxana and Otto (PDF, 1.7 M)
RDI: Gambling? I'm In! (PDF, 8.4 M)
Gambling? I'm In! inside of RDI (PDF, 264.7 K)