Introducing The Red Dragon Inn: Allies!
There has been a lot of talk on the blog and at the GAMA Trade Show about a pair of new Red Dragon Inn party members. We are pleased to announce a single character deck expansion for The Red Dragon Inn:
The Red Dragon Inn: Allies!
You may have heard us mention Erin the Ever-Changing in the Rules blog (check out Clarifications, Errata, and Reprint! if you hadn't!) and we are pleased to let you guys in on the scoop now. Erin the Ever-Changing, an elven druid, will be the newest character and the first Ally to join the party at the Red Dragon Inn.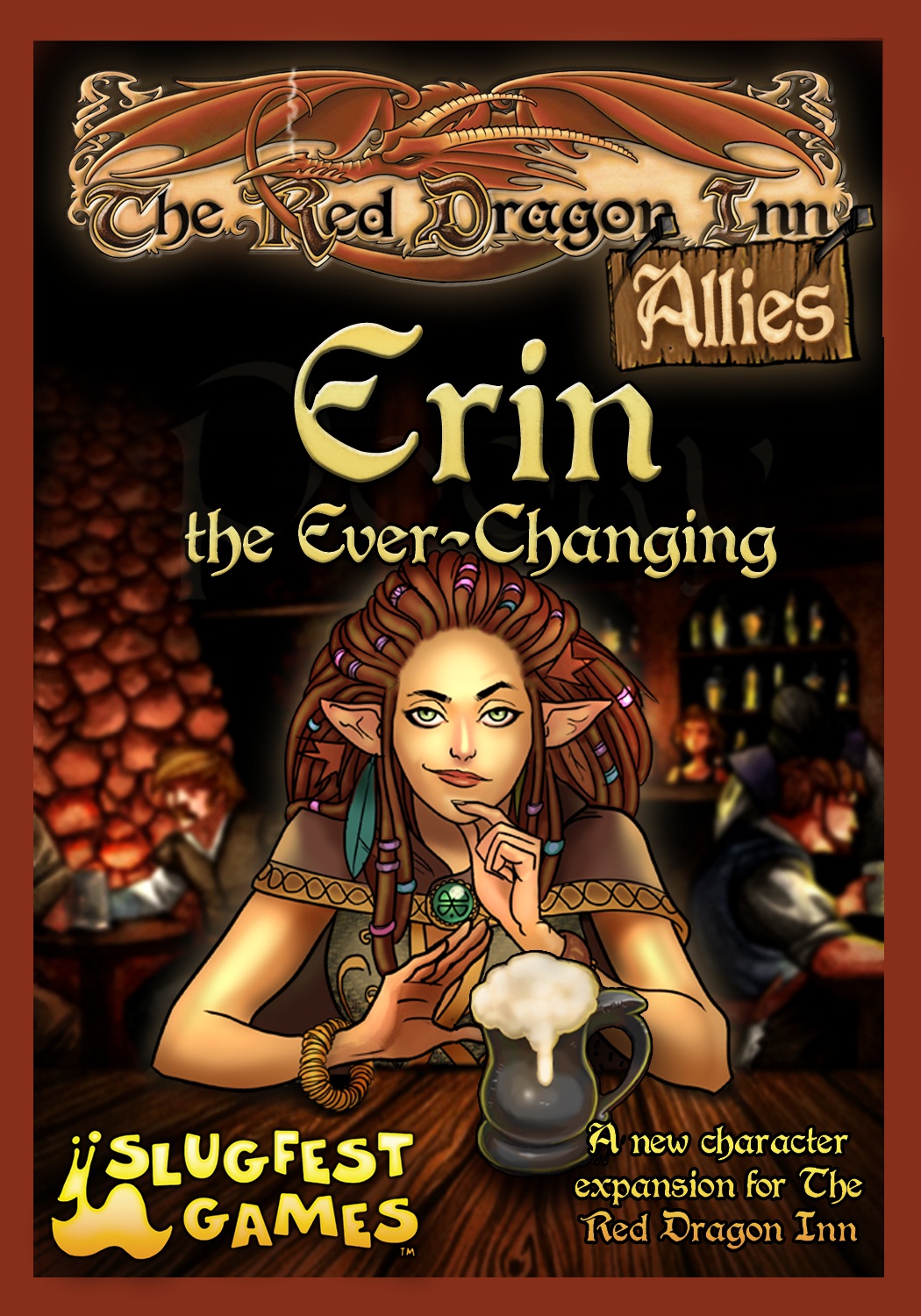 When you first meet this soft-spoken young elf, you might be surprised to learn that she's an adept adventurer; even more so that she's often fighting on the front line. But then again, you don't run into very many shapeshifting druids at the Red Dragon Inn…
The Good: Erin's always ready with a kind word and a healing chant to smooth ruffled feathers or mend wounded flesh.
The Bad: When the drinks start flowing, Erin can turn into a tree. Have you ever tried out-drinking a tree? It's not pretty.
While he's not a new character to the party, he's never been in control of his own fate… until now! The second Ally will be Zot's familiar Pooky. Yup, Pooky will have his very own character deck now. Be afraid. Be very afraid.
While the master's away, the familiar will play!
Zot's turning in early for the night, but Pooky's not done with the party. With a stash of gold and a big chip on his wee shoulder, this strange little rabbit-thing is looking to prove he's more than just Zot's whipping bunny.
The Good: In the dungeon, Pooky's psychotic behavior has gotten the party out of some pretty nasty jams.
The Bad: That rabbit is even more insane without Zot's influence… Seriously.
We received a lot of positive feedback about the game mechanics we introduced in Red Dragon Inn 3, and kept that praise in mind while we designed the first two Allies. Both Erin and Pooky add new game mechanics that are unique to their character decks as well. Keep an eye on the blog in the upcoming weeks as we will be revealing their new tricks and artwork up until their release at Gen Con 2012!
Each Allies character will come in a two piece telescoping box containing a brand new 40-card character deck, Rules, Player Mat, Gold Coin Tokens, Fortitude and Alcohol Content markers as well as extra elements unique to each character.
Both characters will be available for preview at
Origins
. Come check them and us out at booth #425 and we may just be able to sit you down for a demo!