Keet and Nitrel Now Available!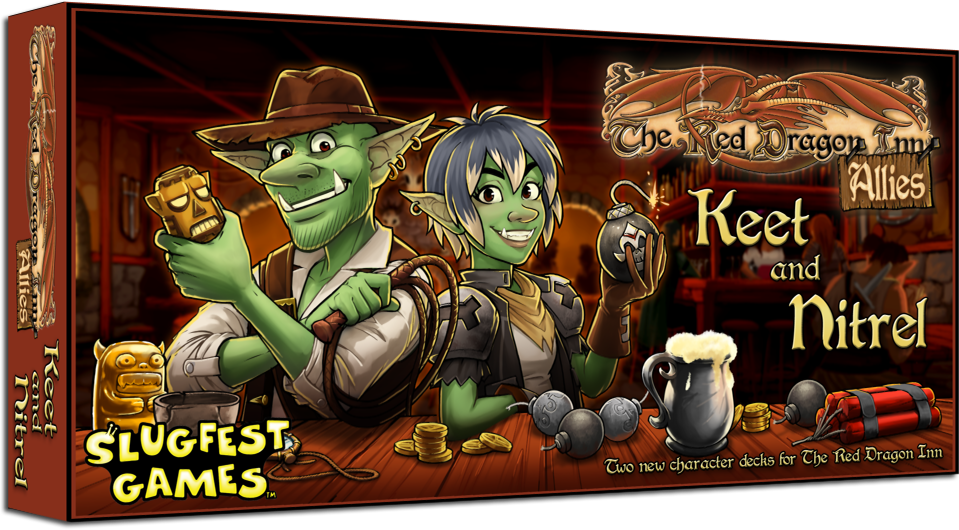 The goblins have arrived!
We're happy to announce the availability of Keet and Nitrel, our new two-character expansion to The Red Dragon Inn! This is the first Ally double-pack, giving you two brand new characters at one great price. The box contains everything you need to add two fun new characters to any RDI base set. On top of that, the set features player mats and deck dividers that are compatible with  The Red Dragon Inn 5: The Character Trove!
These goblin siblings each bring a novel mechanic to the party, leading to interesting game play, fun choices, and zany new situations. Here's what we posted about the mechanics a few months ago:
Keet doesn't start the game with Gold like other characters do. Instead he is dealt an appropriate number of random cards from his Artifact Deck. Each Artifact counts as a Gold for all card effects, and at the start of the game none of them are revealed. These special cards have a wide variety of powers, some of them good for the owner while others are bad. Sometimes they will give you a great way to make a player lose a LOT of Fortitude. Other times you'll find yourself stuck with an Artifact that will slowly whittle away at your defenses. Not even Keet knows the significance of his starting pile of Artifacts, so it's anyone's guess whether or not it's safe to steal or gamble with them.
…
Nitrel adds a new shared deck to the table, the Bomb Deck. As far as this goblin is concerned, there's no better way to celebrate a successful day's dungeon delving than by setting off mild explosives in a tavern, and it appears that the rest of the Party is in for a bit of (extremely dangerous) fun!
Many of Nitrel's cards tell players when they get a bomb. Usually bombs do what you'd expect them to – explode violently and cause a little Fortitude loss. Other times, however, you'll find them causing all sorts of extra mayhem. You may find yourself pointing the business end of a Goblin Candle at another player or the whole party could be literally burning up their Gold to avoid a massive Pot of Boom!
It's all fun and games until someone is lit on fire! Then it's a party!
Get the goblins today! You can preorder the product from us, or you can get it from your own Friendly Local Game Store. If your FLGS doesn't carry it yet, tell them that they should!