The Red Dragon Inn Smorgasbox
Players, RDI: 2-5 (base game required)
Players, GII: 2-10
Players, BfG: 2-5 (base game required)
Time: 30-60 Min
Ages: 13 and Up
MSRP: $44.95
Please allow 1-2 weeks for delivery.
Have we got an expansion for you – a new Red Dragon Inn character, an accompanying Battle for Greyport character, a reboot of one of our classic games, new promo content, and even an overflow storage solution for those of you who need one. Presenting – The Red Dragon Inn Smorgasbox!
This expansion is our way of saying "thank you" to all of our loyal fans, with a little something for everyone.
New Red Dragon Inn character: Roxana, Adventurous Chef is the head chef at The Red Dragon Inn. And she's called an "adventurous chef" for two reasons. First, she is no stranger to experimentation in the kitchen, preparing such ambitious dishes as Spatchcocked Cockatrice and Fire Salamander Flambé. Second, she knows how to hold her own in a tavern full of adventurers, where things can get rather dangerous at a moment's notice!
As Roxana plays cards, she gathers ingredients that she can use to cook powerful recipes, adding them to her hand. And after she plays a recipe, it stays in her deck, so she may be able to play them again before the game ends!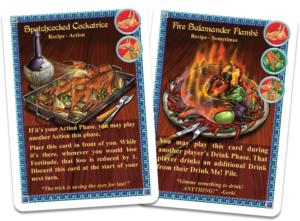 New Battle for Greyport character: In addition to having Roxana's RDI components, The Smorgasbox also includes a playable Battle for Greyport deck for her as well!
Gambling? I'm In!: The Smorgasbox also includes a rebooted version of our Gambling? I'm In! product, complete with redrawn cards and five new games!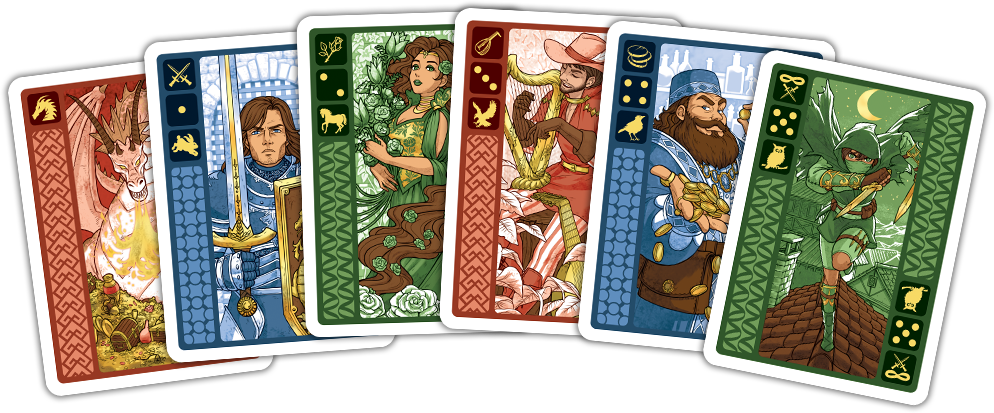 More Otto factions: In our Munchkin crossover product, we introduced Otto, the automated third player for one-on-one games of RDI. The Smorgasbox includes four new factions for Otto, plus everything you need to play a game with Otto, even if you don't have Spyke and Flower.
Promo cards: The Smorgasbox includes five promo drinks and two new prizes for use in the Prize Variant!
Overflow box: The Smorgasbox comes in a 10.5″ x 7.5″ x 4″ box (the same size as Battle for Greyport), with plenty of room to spare for other RDI content!
Components:
Roxana

40-card Roxana deck
12-card Roxana recipe deck
Player mat
9-card Battle for Greyport deck
3 oversize Battle for Greyport character cards

Gambling? I'm In reboot

90-card Rogues and Warriors deck
3 Dragon cards
5 grey cards

Promo cards

5 promo drinks
2 prize cards

Otto

4 new 5-card factions (Bard, Witchdoctor, Tinkerer and Paladin)
Player mat

Gold coins and other punchout tokens
4 Deck dividers
Rules
* Munchkin, the Munchkin characters, and the pyramid logo are trademarks or registered trademarks of Steve Jackson Games Incorporated, used under license by SlugFest Games. All rights reserved.
---
Rules

Roxana & Otto Rules (PDF, 1.2 M)
Gambling? I'm In! Rules (PDF, 8.4 M)
---