Evil Pooky
Players: 2-5 (base game required)
Time: 30-60 Min
Ages: 13 and Up
MSRP: $24.95
Please allow 1-2 weeks for delivery.
Ancient teleport spells and alcohol do not mix… A late-night "research" session has opened a portal to unknown realms. From that portal leaps Pooky's evil doppelganger, ready to wreak havoc in our heroes' beloved tavern! And he hasn't come alone…
The Bad: Hey look! It's Deirdre! Wait a minute…
The Worse: I don't remember Deirdre being a vampire…
Pooky's evil twin has more than just copies of members of The Party up his sleeve!
Contents:
Evil Pooky character deck
Evil Pooky doppelganger deck
Evil Pooky boss deck
Drink deck with 8 brand-new drinks
EPIC Pooky – boss deck for original Pooky
Two new Prize Cards
This product includes Evil Pooky, the 50th character for The Red Dragon Inn! Evil Pooky is, of course, a villain, so he may also be played as a Boss in the Boss Battle variant. This set includes custom Player Mats and Deck Dividers that are compatible with The Red Dragon Inn 5: The Character Trove.
In addition, this product includes cards needed to play the original Pooky as a Boss in a Boss Battle! Hold the line against a team of contenders as EPIC Pooky.
To add to the celebration of releasing our 50th character, Evil Pooky comes bearing drinks! The drink deck that comes with this furry, uninvited guest is a greatest hits list of imbibe-ables from The Red Dragon Inn, with 8 new cards and fresh art for some of the old classics.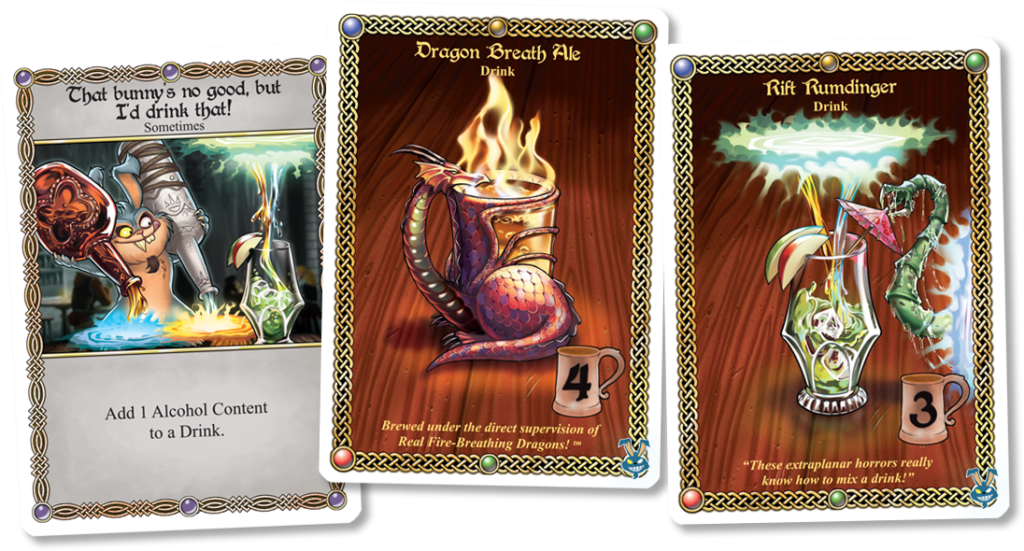 Check out our Preview video that tells the story of Evil Pooky's arrival!
Get the Rules:
Rules (PDF, 1.5 M)
Desktop Wallpaper – 1920 x 1080
Desktop Wallpaper – 1280 x 1024
Players: 2-5 (base game required)
Time: 30-60 Min
Ages: 13 and Up
MSRP: $59.95
Please allow 1-2 weeks for delivery.
We went BIG and BOLD for the Collector's Edition, and loaded the box with swag! Here's a list of what's been added;
A 6-player set of 3D molded plastic Fortitude and Alcohol tokens!
A 3D molded Pooky's Mood tracker token!
A copy of the original Pooky deck – in foil and non-foil!
Both foil AND non-foil versions of all Evil Pooky, Drink and Prize cards!
Two MORE Prize cards!