SlugFest Games Merchandise
Red Dragon Inn 5-Player Coin Set
This set of amazing metal coins from our friends at Campaign Coins is just what you need to add the ultimate level of fanciness and swagaliciousness to your RDI game!
Included: 30 gold pieces, 6 platinum "5's", 5 Fortitude markers, 5 Alcohol Content markers, red velvet drawstring bag
          Price: $50

Red Dragon Inn Metal Token Set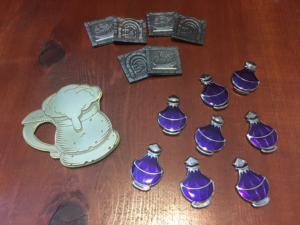 This token set includes a foamy ale turn marker, 6 two-sided Event Progress markers for use with the Dungeon and Sea Event Decks, and eight beautiful enameled Potion tokens for use with The Red Dragon Inn's Team Variants of play. Our friends at Campaign Coins did a fantastic job with this set, and we're happy to have a (very limited!) quantity back in stock!
Price: $50
Red Dragon Inn Full-Party Poster
This poster is 24 inches wide by 33 inches tall, and features the first 29 RDI characters, plus the Wench. It's the same amazing piece of art by Staff Artist Erin Wong that we used for the cover of RDI 5!
Decorate your walls in style with the full-party poster of The Red Dragon Inn!
Price: $5

Battle for Greyport Shield Token Set
Fresh from our Battle for Greyport Kickstarter comes another fine accessory from our friends at Campaign Coins! Defend your party in style with these beautiful upgraded shield tokens.
Included; 6 double-sided enameled metal shield tokens.
Price: $12
United States Orders ($3.50 Shipping)
Canadian Orders ($10 Shipping)
International Orders ($20 Shipping)
Want T-Shirts? Mugs and Steins? Character buttons?
Note; Following the link to the Zazzle store will take you to a new page and any Zazzle product will be in a different cart for purchase.